Let's celebrate summer with this super delicious Strawberry Lime Gin Rickey.  It's the perfect combo of sweet and sour with lots of summer freshness.
Cocktails on Wednesday? Why yes!  
Of course, you must partake when you are part of such a fun, summer cocktail celebration.  Sherrie over at With Food + Love has organized this fun booze party to wrap up the summer.  
I can't think of a better way to end it, can you?  There are a ton of very talented bloggers who created extra special cocktails for this celebration.  
Scroll down to view the entire list.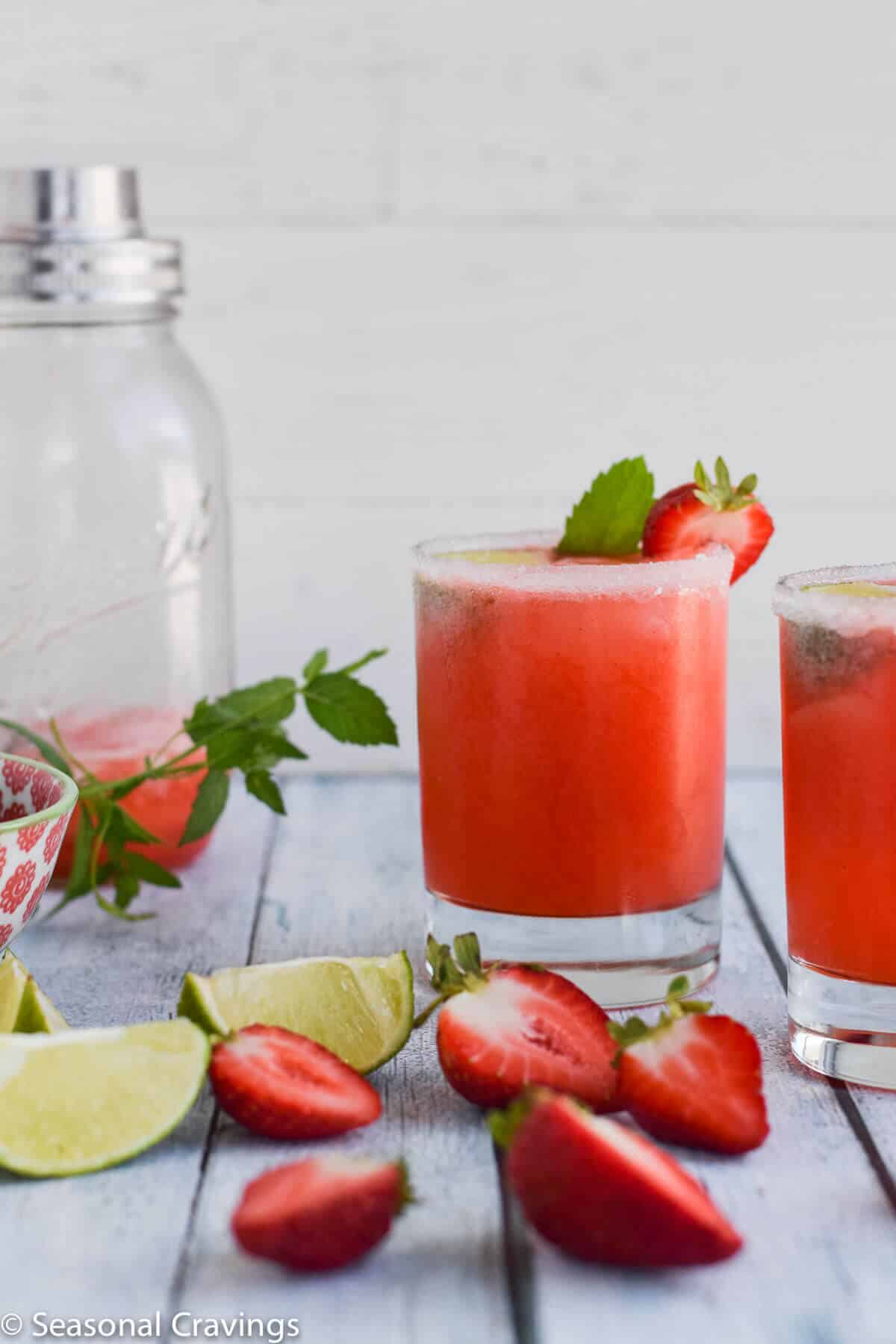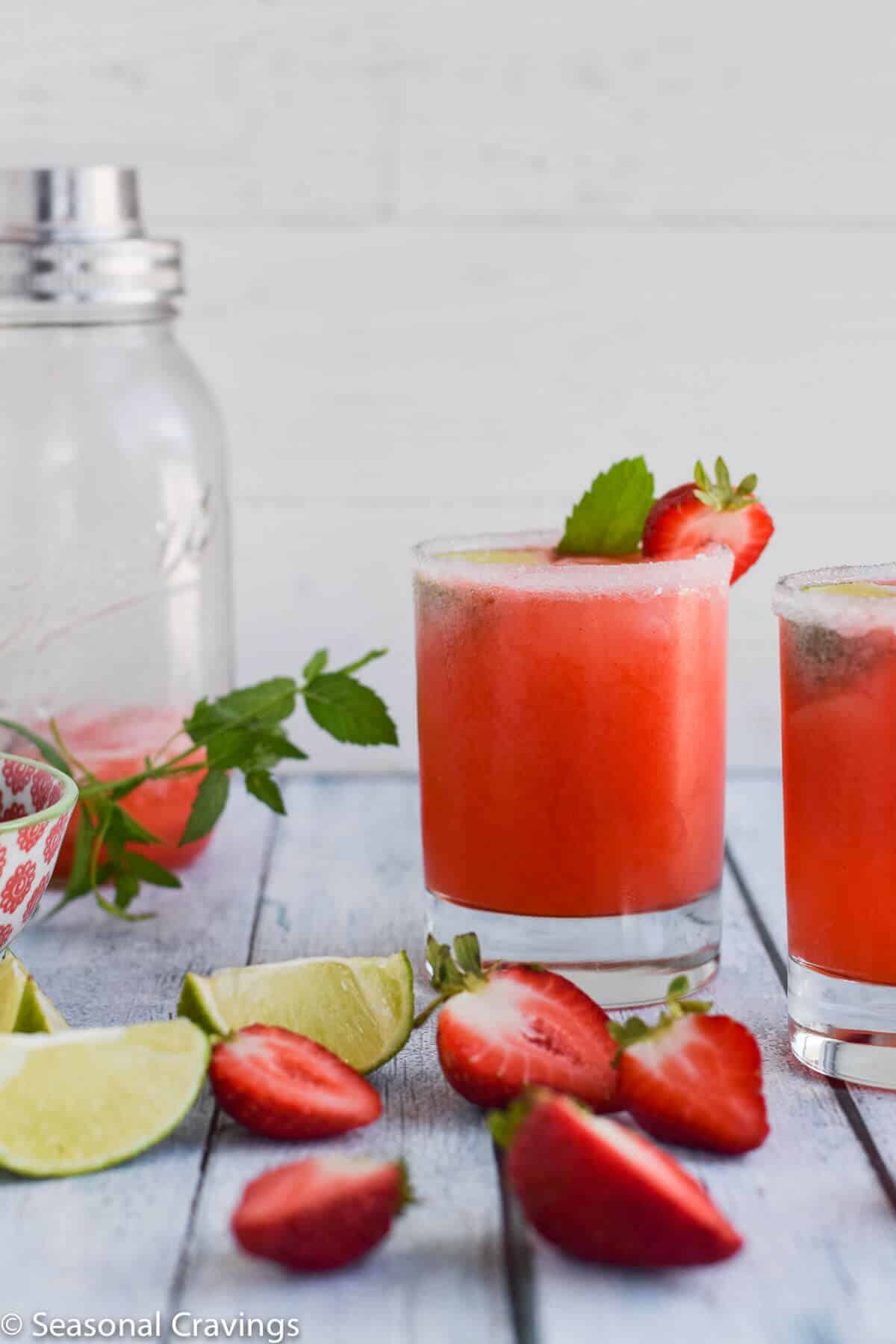 Can you believe the summer is almost over? Where did it go?  
Why didn't I get to all items on my summer bucket list?  We didn't go to the water park, pick strawberries or learn to paddleboard.
What we did do was spend many days at the beach and pool lounging. Well, I was lounging and the kids were swimming, boogie boarding, and snorkeling.  
Lucky me!
Fall is always a turning point for me where I re-evaluate my goals and make plans for the school year. I will be making goals for the blog and for things I want to do with my family.  
Hopefully, I will have a more organized way to get my meals on the table each night (weekly meal planning anyone?)
Seriously, I'm on a mission to fill this blog with simple gluten free weeknight meals that can be made in less than 30 so stay tuned. I will recommit to working out on a regular basis since I haven't worked out all summer. Gross, I know, but who has time for that?
It's almost like New Year's Resolution time for me and I love it. I'm a list maker and a goal setter and it's the only way I get anything done.  
Can you believe that I have written something on my list that I have already done just so I can cross it off?  Crazy, yes!
In the meantime, I have one week left of summer celebrating and so do you. Luckily you have this awesome list of summer cocktails to make.  
Try each one and enjoy every last second of summer!
Cheers everyone!
Print Pin
Strawberry Lime Gin Rickey
Let's celebrate the end of summer with this super delicious Strawberry Lime Gin Rickey. It's the perfect combo of sweet and a bit sour with lots of summer freshness.
Ingredients
16

oz

strawberries

hulled and cut in half

1/4

cup

fresh lime juice

I used 1 juicy lime

2

tbsp

honey or more to taste

6-10

mint leaves

1/2

cup

gin

club soda to top off

2

cups

ice

3

tbsp

sugar

lime

strawberries and mint for garnish
Instructions
Blend the strawberries, lime juice, and honey in a high-speed blender. (You will want to drink this with a straw, but try to refrain.)

Rub the rims of two glasses with a slice of lime then dip in a shallow bowl of sugar. Add ice to glasses.

In a cocktail shaker, muddle 6-10 mint leaves with a muddler or the back of a wooden spoon. Then add 1 1/2 cups ice, gin and 1/2 - 3/4 cup strawberry puree mixture. Shake well.

If you prefer no seeds, you can strain this through a fine mesh sieve. I did not.

Pour mixture into glasses and top with club soda.

Garnish with fresh lime, strawberries, and mint.

Serve with a straw. You may have some leftover strawberry puree - pour it on top of vanilla ice cream.
Nutrition
Calories:
354
kcal
|
Carbohydrates:
55
g
|
Protein:
1
g
|
Sodium:
6
mg
|
Potassium:
382
mg
|
Fiber:
4
g
|
Sugar:
46
g
|
Vitamin A:
155
IU
|
Vitamin C:
143.4
mg
|
Calcium:
44
mg
|
Iron:
1.1
mg
Did you make this recipe?
Tag @seasonal_cravings on Instagram or hashtag #seasonal_cravings
Here are all the talented bloggers celebrating #drinkthesummer!
BOOZY
With Food + Love | Basil Fig Vodka Smash
A Little Saffron | Beach Bum's Rum
A Thought For Food | Tarragon Tequlia Swizzle

Downshiftology | Limoncello Prosecco with Blueberries and Thyme
Heart of a Baker | Green Tea Mint Cooler
Hungry Girl por Vida | Whisky Peach Alexander
The Green Life | Spiced Plum, Fig & Kombucha Cocktail
Hummingbird High | Watermelon and Mint Agua Fresca
Floating Kitchen | Peach Sun Tea and Bourbon Cocktail
Beard and Bonnet | Melon Mojito
EGD | Backyard Peach Sweet Tea

Appeasing a Food Geek | Basil and Black Pepper Gin Sour
Vegetarian Ventures | Garden Tonic Punch

Nosh and Nourish | Mango Margaritas with Chile Lime Salted Rims
Domesticate ME! | Watermelon-Basil Mezcal Margarita
The Foodie Nurse | Husk Cherry Margarita
my name is yeh | Choose Your Own Adventure Bloody Marys
Sevengrams | Cucumber, Gin and Chartreuse Cocktail
Wicked Spatula | Coconut Gin and Tonic
Eat Boutique | Sbagliatos and Homemade Sweet Vermouth
Nutritionist in the Kitch | Healthy Muddled Blackberry Pina Coladas
Chocolate + Marrow | Pequito Verdecito
The Solstice Table | Jalapeno Watermelon Cooler
HonestlyYUM | Watermelon, Fresh Herbs, & Sotol Cocktail
Salted Plains | Frozen Honeydew Daiquiris
The Broken Bread | Honeydew-Ginger Apricot Mojitos
Fix Feast Flair | Ginger-Berry Splash Cocktail
Turntable Kitchen | Summer Cooler Cocktails, Two Ways
Foolproof Living | Blueberry, Dark Cherry and Calvados Cocktail
Dessert for Two | Salty Melon Slush
Milly's Kitchen | Golden Watermelon Cocktail with Ginger, Basil + Tequila
NOT BOOZY
Heartbeet Kitchen | Salty Watermelon Shrub Elixir
TENDING the TABLE | Raspberry and Fig Hibiscus Cooler
Snixy Kitchen | Lavender Earl Gray Blackberry Ice Cream Floats
The Bojon Gourmet | Vanilla Rooibos Peach Ice Cream Floats
Gratitude and Greens | Hong Kong Style Crushed Watermelon Ice
My Heart Beets | Spiced Pistachio Shake
rooting the sun | Strawberry Fennel Soda
The Modern Proper | Vanilla Bean Plum Shrub
Feed Me Phoebe | Watermelon-Cucumber Kombucha Coolers
Gourmande in the Kitchen | Stone Fruit Thyme Shrub Soda
dolly and oatmeal | Cold-Brewed Shiso & Hibiscus Tea Iced Latte
happy hearted kitchen | Heirloom Tomato Gazpacho with Fennel, Orange + Cardamom
I am a Food Blog | Cherry Vanilla Sodas
Tasty Yummies | Fig Vanilla Bean Almond Milk
Let's talk evergreen | Iced Earl Grey Yuanyang With a Hint of Rose
Kale & Caramel | Emerald Beaut Green Spritzer
Earthy Feast | Watermelon Hibiscus Agua Fresca
Now, Forager | Sparkling Plumcot and Purple Basil Shrubs
The Pig & Quill | Brown Sugar Blueberry Pie Shakes
Well and Full | Peach Bubble Tea
Sweetish Co | The Best Frozen Hot Chocolate
holly & flora | Spiced Pineapple Shrub Sparklers with Black Tea + Coconut